Welcome to our supplier page.
We started this YouTube channel to give you a wee insight on not only how we work and operate but how we make a point to know every supplier by name and we want to show you how we select our products from the beginning
We source the majority of  our cheese directly from small family-run farms, who hand-make their products within walking distance of the pastures in which the animals graze. We want to put the message of proper farmhouse and artisan cheeses across in a way that can be accessible to everyone. Knowing the process of cheese making doesn't need to be difficult so hopefully these small videos allow you to understand and appreciate the hard work that all the fantastic cheese makers do
If you have any video suggestions or would like to see certain things on the channel then just drop us email on the contact page and we'll get back to you. This isn't about followers or subscribers it's just about educating people and getting them excited about cheese. Hope you all enjoy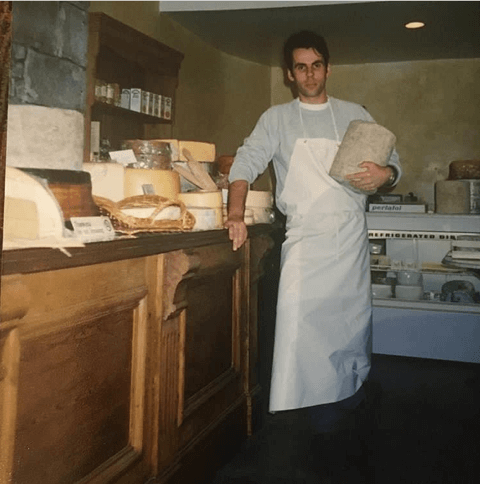 Welcome to our video section of our new website. We've added a few short movies to show you what we are about and to give you an insight into how we work. After working in the dairy industry for over 15 years Iain has a deep knowledge and passion for the product. We mature all our cheeses in specially built cellars in Leith before releasing them one by one to our stores. We love how the smallest change in environment can alter the taste and flavour of a cheese and it's what makes this product so special. We teamed up with Barbour to show you what we do. Enjoy
Cashel Blue. A semi soft blue cheese developed by Jane Grubb in the 1980's in county Tipperary. Now decades later it is run buy Sarah Furno (her daughter) and her fantastic team. Their family and head cheesemaker, Geurt insist on retaining open vats and the curd is still curd and stirred by hand. We have the privilege on knowing the Grubb family personally; from Jane to now Sarah. A true sense of family business producing beautiful artisan cheese with a raw passion. Thanks fro having us Cashel
Durrus. A washed rind pasteurised cow's milk cheese made in Coomkeen, West Cork. Jeffa Gill moved to South-West Cork from Dublin in the early 1970s where she began making cheese in her kitchen with the milk from her 8 cows. As the cheese grew in popularity she moved the operation into a purpose built dairy, using a Swiss Copper Vat and Swiss harp. With the increase in demand Jeffa began to buy in milk from neighbouring farms. Now run by her daughter Sarah it is great to see a new generation of inspiring woman making artisan cheese
Cooleeney. A bloomy rind pasteurised cow's milk cheese with a nutty and fruity flavour. Breda and Pat Maher have been making Cooleeney on their farm outside Thurles since 1986. The Maher's make Cooleeney cheese from their own herd of pedigree Fresians which pat now takes care of. Like so many other Irish cheese makers cheese was just an additional income to the farm. Breda took a course in cheesemaking at Univeristy county cork fell in love with the craft. Over 30 years later Breda and her team are driven to produce beautiful mould ripened cheese and support the local community during the process
We created this small video to show you what we do here at Mellis. Maturing cheese is a skill and knowing what cheese needs which environment can be difficult. We take great pride in buying cheese young, ageing them in our very own maturing rooms in Leith before releasing them. Before Iain started in Victoria Street in 1993 he made cheese for over 15 years. We are using his depth of knowledge and skill to educate everyone on proper matured artisan cheese
Maturing matters at Mellis. We still follow the traditional practices of maturing the cheese, cutting down the rounds of cheese and doing everything over a counter. Continuing the same process the cheese maker started helps to understand what makes a farmhouse cheese taste completely different from factory produced one. We all have a role in maintaining tradition and culture. This is one way of doing so!
Errington Cheese. True Scottish farmers who predominately make sheep milk cheese such as Lanark Blue and Corra Linn. Their farm is based in Lanarkshire down in the Scottish boarders. A real passion and knowledge for not only farmhouse cheese but animal welfare too. We work closely with Selina and her team and we think it is important to show you why we love their cheese and why we are proud to sell it amongst some of the best cheeses in the world.
Westray Wife has a smooth texture with a rich, salty taste and hints of hay meadows.  It is similar in style to Alpine cheeses like Raclette and Morbier, lending itself well to melting over potatoes as well as complementing the more traditional Scottish cheeses. d, before a stunningly long aftertaste. Jason and Nina Wilson move from South Africa to Orkney to begin making cheese quite recently and their organically farmed herd of Ayrshire cattle graze on a species rich pasture – resulting in a complex flavour.  The Cheese is named after an ancient figurine of a woman found on the island of Westray that is thought to be 5000 years old.
The Wee Isle Dairy on Gigha is home to Scotland's finest milk. Don & Emma and family are committed to producing glass-bottled whole milk that tastes just as good as the milk that was available in Scotland in the 1950's and 60's. Emma is the dairy farmer, and milks 60 friesians. This is the only milk available in Scotland that is pasteurised using the old-fashioned low-temperature protocols of yesteryear. They also do not homogenise it, so the cream naturally floats to the top of the bottle. Delivered fresh each Thursday to our premises.
In 2019 Selina and husband Andrew made a big decision to buy a herd of goats. For many years there has been a distinct lack of goats cheese in Scotland. The decision to start making fresh curd cheese has brought a lot of happiness to me and the family. They are now milking 120 strong herd of Yorkshire breed goats and making soft, lactic ash rolled cheese of which we have proudly put in the stores and have been selling for almost 6 months now.
The Ethical Dairy. The growth of dairy farming has been an area of concern for David and Wilma for many years, so they've been working hard to come up with an alternative solution. They introduced a new method of dairy farming that keeps the calves with their mothers to suckle. Their  ethical dairy model is based around treating the animals, the land, our environment and the people who work here with respect and kindness. We sell their Laganory. A cow's milk cheese made to a Tomme style recipe.